Asajj Ventress was a playable character in
The Sith Temple Game
and
Haters of the Jedi II: Order 66
. In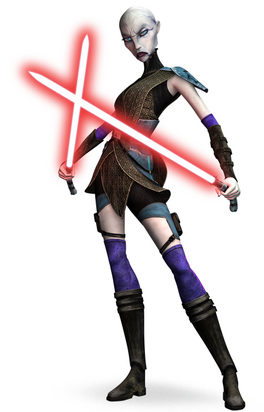 both games she was played by Killagal. Ventress reappears in
The Rising Menace as
a key character.
The Sith Temple Game
Edit
Asajj Ventress was one of many loyal sith in the temple. She was convinced on Day 1 to vote for Erik Lehnsherr by Voldemort, and did so. On the next day, she was the only sith to not vote at all, putting much suspicion on her. On Day 3, Dooku wanted to vote off Ventress. But then he saw that Galen Marek was the true Jedi, and voted him off. Then the remaining sith went to Hogwarts. Ventress fought Voldemort, nd killed many Separatist Battle Droids. Eventually, she came ace to face with Darth Bane, and killed him with a chainsaw. When they had the ring, the sith left
Haters of the Jedi II
Edit
Asajj Ventress was a loyal hater to Zwervers's cause. She mostly voted with the other haters. On the last day, she was tricked by Tauntaun to kill Rako Hardeen. This led to her death. 
The Rising Menace
Edit
Ad blocker interference detected!
Wikia is a free-to-use site that makes money from advertising. We have a modified experience for viewers using ad blockers

Wikia is not accessible if you've made further modifications. Remove the custom ad blocker rule(s) and the page will load as expected.