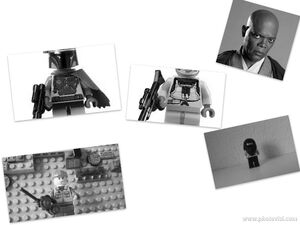 Hello I'm BobaFett1590. This page is just a summary of the games I have played.
Haters of The Jedi III
Edit
The first game I ever played, got killed off Day 3 and the scum won.
Rise of The Jedi Knight
Edit
Second game I played, I got killed off on Day 7 but I admit I deserved in some way because of my inactivity.
Servants of Destruction
Edit
I was a Red Soldier, on Day 1  I very quickly accused Buzz (Newan) of being scum for asking questions, which was a very weird reason , I never trusted the plastic ranger thereafter . For some inexplicable reason I had the habit of switching between character names and the player's actual names, one minute I would be saying Buzz or BX-03 then the next sentence I would say Newan or SWU. I will never know why.
On Day 2 , I once again went for Buzz, relentlessly accusing him after he voiced his suspicions of C-3PO (Star). Later in the day his accomplice 2-1B (Nat) managed to rally some support for the "vote C-3PO team", by agreeing with the Space ranger who was well trusted at the time. Later in the day, when C-3PO's demise seemed imminent, I done a whole post dedicated to my suspcions of other players, it was met with a rather confused reception from all the players I accused. At the end of the day I voiced my opinions of Buzz and 2-1B being accomplices and suggesting that I would probably vote for them if nothing else comes up and they are my top suspicions.
During the night I was murdered, I believe it was because I was getting close to exposing the scum and the fact that Buzz could claim protector and eliminate a soldier.
The Birthday Party Game
Edit
On Day 1 I came across as extremely strange to players, my constant accusing of others seemed suspicious. By the end of Day 2, I knew I would most likely be voted off. On Day 3 I broke a rule (copying and pasting my role) and was killed. But I liked the fact that Boba Fett was killed by the Sarlacc, nice reference to ROTJ
A Common Enemy
Edit
Ad blocker interference detected!
Wikia is a free-to-use site that makes money from advertising. We have a modified experience for viewers using ad blockers

Wikia is not accessible if you've made further modifications. Remove the custom ad blocker rule(s) and the page will load as expected.