Bossk is a Trandoshan Bounty Hunter. He was potrayed in Hunting the Hunters by Boomer. He was featured as a minor character in The Sith Temple Game.
Hunting the Huntes
Edit
Bossk was amongst the 6 survivors from the carnage of the bounty hunters. After completing a mission with the other survivors and Spudlo, Bossk made so many credits that he barely had to work again.
The Tale of Omega
Edit
Bossk will appear again in Potato's next hosted game called The Tale of Omega. He is one of the few open characters to play.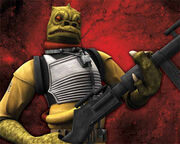 Ad blocker interference detected!
Wikia is a free-to-use site that makes money from advertising. We have a modified experience for viewers using ad blockers

Wikia is not accessible if you've made further modifications. Remove the custom ad blocker rule(s) and the page will load as expected.