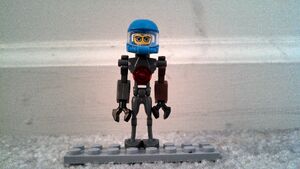 Cuerpo Metálico will be a playable character in "Back on the Grid". 
Background
Edit
Ryder, before renaming himself "Cuerpo Metálico", was a proud warrior. His kill ratio was very high for his age. His reflexes were stunning, and his counterattacks were brillant. But one day he was involved in a horrible shuttle crash. The shuttle was hit and landed in the lava on Mustafar. When they found Ryder, he was in critical condition. They operated on him immediatly, but only his head and a few vital organs could be saved. Now he's a bounty hunter. But now he's more powerful than ever. His new body has given him increased speed (which enables him to travel faster than the speed of sound), super strength, and faster reflexes. 
Ad blocker interference detected!
Wikia is a free-to-use site that makes money from advertising. We have a modified experience for viewers using ad blockers

Wikia is not accessible if you've made further modifications. Remove the custom ad blocker rule(s) and the page will load as expected.