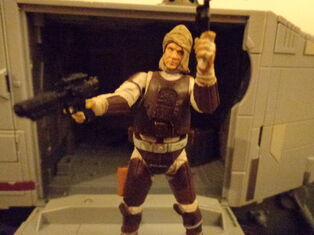 Dengar is a featured playable character in "The Rising Menace". He shares an alliance with Aurra Sing and a fellow Nikto leader, Pallo Foreone. He made his first appearence in the games in The Tale of Omega.
Spider-Wolffe_78 wants to use it in his game but dosen't have his mini figure since he only comes with the $400 Super Star Destroyer.
The Tale of Omega
Edit
Dengar will appear in The Tale of Omega and is reserved by Newan.
Ad blocker interference detected!
Wikia is a free-to-use site that makes money from advertising. We have a modified experience for viewers using ad blockers

Wikia is not accessible if you've made further modifications. Remove the custom ad blocker rule(s) and the page will load as expected.