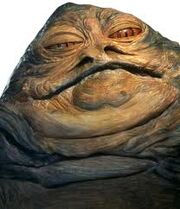 Jabba the Hutt was a playable character in The War on Middle-Earth and A Common Enemy. He was played by Maverickjedivalen.
Jabba joined Erik Lehnsherr's company to take the tesseract. Despite the Hutt's immense side, he managed to keep up with the group. He fought at and survived The Second Battle for Helm's Deep. He was killed by Haldir in A Common Enemy.
Ad blocker interference detected!
Wikia is a free-to-use site that makes money from advertising. We have a modified experience for viewers using ad blockers

Wikia is not accessible if you've made further modifications. Remove the custom ad blocker rule(s) and the page will load as expected.