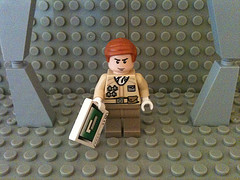 Lance Greene was a made up character for The Enemy Within. He wasn't one of the Rebels in Kenovi Ban's group but a Rebel Captain also in the Rebel base on Yavin. He was ultimately killed by the Imperial spies.
DantooineEdit
Greene was sent on a mission to Dantooine to deliver supplies to the Rebel base that was there. Kenovi also asked Greene to take another crate with him to the planet. Not knowing at the time, Greene took with him all the evidence and identities of the Rebels in Ban's group that Ban had found and collected over the past couple days. Along with them were instructions to return to Yavin and arrest the spies.
Lance was killed by Sans Stringer after he revealed all identities and more in the Rebel base.
Ad blocker interference detected!
Wikia is a free-to-use site that makes money from advertising. We have a modified experience for viewers using ad blockers

Wikia is not accessible if you've made further modifications. Remove the custom ad blocker rule(s) and the page will load as expected.