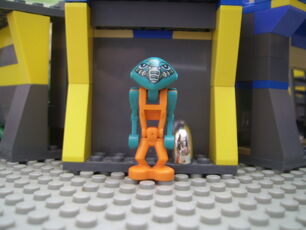 Lume-Den was a character in the 10th Ambush Game "Rise of The Infiltrators" hosted by Ivar-Jedi. He was a prisoner by the Droid Army on the fictional planet of Batinee.
Rise of The Infiltrators
Edit
Lume-Den was on the verdge of execution when Ravi and his Elite Force invaded and took over the fortress. Several of Ravi's friends wanted to kill him, but Ravi, being a Jedi, had him live. Also because Lume claimed to be the designer of the Separatist weapons.
Lume was forced by Ravi to help him and Fierce crack the secret code on the Seperatist Computers within the base to find the hidden Plans. Lume-Den didn't hesitate and agreed.
FURTHER BACKGROUND KNOWLEGDE ABOUT LUME-DEN SHALL BE IN THE GAME ITSELF
Ad blocker interference detected!
Wikia is a free-to-use site that makes money from advertising. We have a modified experience for viewers using ad blockers

Wikia is not accessible if you've made further modifications. Remove the custom ad blocker rule(s) and the page will load as expected.