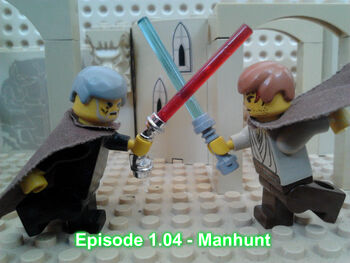 Manhunt is the fourth episode in Ivar-Jedi's "Rise of The Redemption" and is also the fourth episode of Season 1. 
It aired on June 22 alongside An Endangered Escort. 
After discovering the location of Count Dooku, Ravi-Idej and the Crew of The Redemption race towards him and a wild manhunt begins...
Full Plot
Edit
[Upcoming] 
Characters And Locations
Edit
Ravi-Idej
The Fire Skeleton
Cyborg
Darren Ratta (Wiz-Man 2.0) 
Cameron Darkrider
Avery Thornston
Natalie Shaw
Bogore Harris
Daniel Flox
Nalyal Dagget
Talia Tate
Zorrus Blake
Fierce
Evangeline Muran (Introduction)
Count Dooku
Haracus (The Loyal Gaurd)
Battle Droids
Cormellian Gaurds
Cormellian Bartender
Cormellians
Locations: 
The Redemption
Tatooine
Cormellia
Cormellian Cantina
Cormellian Palace
Reception
Edit
The Episode was well recieved with an 8/10 and Spider even calling it his favorite episode [so far] and later gaining an 8.5 from Starwarrior. 
It recieved in total an 8.3/10
This is the first episode to include Count Dooku and an actual Sith Lord. 
This is also the first episode to include seperatists on screen.
This will be the first episode to feature Ravi's love interest for the series, Evangeline Muran. 
A custom Cantina set was build by Ivar for this episode. 
A custom Palace set was build by Ivar for this episode and will be used in all episodes featuring Cormellia.
Episode Gallery
Edit
Ad blocker interference detected!
Wikia is a free-to-use site that makes money from advertising. We have a modified experience for viewers using ad blockers

Wikia is not accessible if you've made further modifications. Remove the custom ad blocker rule(s) and the page will load as expected.