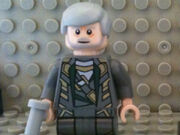 Master_Kenobi-Wan is a member of starwars.com and has played six Ambush Games so far and hosted one. He joined during the Deception arc and was one of the first to sign up for the first Ambush Game,
The Jedi Temple Game
. In that he played as
Kit Fisto and
had the role of Loyal Helper. The second game he played was
Hunting the Hunters
. He played as
Xen Far
in that game and had the role of Loyal Inspector. He left the Ambush Games after these two games. After being told Jett-Kron1911 would be unable to play the next game, he returned to the Ambush Games as
Clone Captain Rex
during
Guardians of the Republic
and also played
Haters of the Jedi II
. He hosted his first game, "
The Enemy Within
" which began on October 13, 2012. He also intends to host at least three more games part of a trilogy, the first being
Bunker 17
. Unforuntaley he had to cancel these games for unknown reasons and it is unknown if they will ever be hosted.