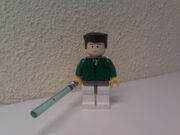 Paros Muna is a human Jedi. After the destruction of the Jedi temple he traveled across planets, looking for other surviving Jedi. Later on he and Anakin Skywalker founded the Grey Jedi Alliance. This alliance is much different from the Jedi order, and for this reason Pindus Zwervus accepted them into his group, as to him they were not true Jedi.
Ad blocker interference detected!
Wikia is a free-to-use site that makes money from advertising. We have a modified experience for viewers using ad blockers

Wikia is not accessible if you've made further modifications. Remove the custom ad blocker rule(s) and the page will load as expected.