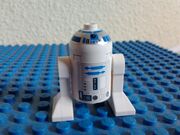 R2-D2 was a playable character (portrayed by Master Kenobi-Wan ) in Haters of the Jedi II: Order 66 and Servants of Destruction.
After R2 got killed by the spies Pindus build new cyborg legs for his remains because his old legs were destroyed in the same explosion that killed R2.
Ad blocker interference detected!
Wikia is a free-to-use site that makes money from advertising. We have a modified experience for viewers using ad blockers

Wikia is not accessible if you've made further modifications. Remove the custom ad blocker rule(s) and the page will load as expected.