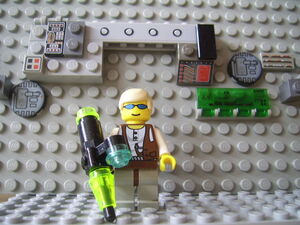 Sergemont Piolis is a playable character in Ivar-Jedi's epic "Rise of The Jedi Knight" He will be portrayed by ???
Sergemont Piolis was once an Imperial Officer on board The Death Star and several Star Destroyers before joining the Rebel Alliance. During the Rebel Infiltration in The Death Star Sergemont discovered The Fire Skeleton but instead of taking him in, he helped him escaped. 
Skelly asked for Sergemont to join him and after refusing at first, Piolis went with the bone-man. He wasn't liked at first by his fellow Rebels due to his Imperial records but managed to gain their trust after blowing up an entire Imperial base and saving many, many lives. 
Rise of The Jedi Knight
Edit
Ad blocker interference detected!
Wikia is a free-to-use site that makes money from advertising. We have a modified experience for viewers using ad blockers

Wikia is not accessible if you've made further modifications. Remove the custom ad blocker rule(s) and the page will load as expected.