Slick is a clone trooper traitor. He was a playable character in
Haters of the Jedi
.
Haters of the Jedi
Edit
Slick was one of many Jedi Haters hired by Pindus Zwervus to attack the Jedi Temple. Pindus found out there were three non-haters of the haters, who were actually spies. The three were Boba Fett, Darth Maul, and Sev. They came up with a plan. Maul and Sev would keep refering to Slick to make it look as if their trying to convert Slick. Fett would point this out and make it appear he's a vey helpful hater when he is indeed as spy. Sev and Maul were killed and Fett turned everyone against Slick. Slick was voted off and killed with a toilet plunger.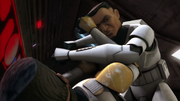 Ad blocker interference detected!
Wikia is a free-to-use site that makes money from advertising. We have a modified experience for viewers using ad blockers

Wikia is not accessible if you've made further modifications. Remove the custom ad blocker rule(s) and the page will load as expected.