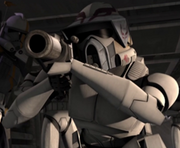 Sergeant Sparker was a clone Sergeant that fought against the Separatists during the Clone Wars. Sparker was put under the command of
Captain Hammer
on many different missions. Since he was created by DarthPotato, he has not appeared in the Ambush Games yet. He made his first appearence
in
Guardians of the Republic
. He was played by Zinga.
Guardians of the Republic
Edit
Being one of Hammer's elite soldiers, he was on a mission to take back battle plans from the Separatists. But Sparker was recruited by Pre Vizsla to take the plans to Death Watch. Sparker betrayed them on Day 3 and killed Commander Cody once Sneppa caught them. He took the plans back to Vizsla afterwards.
The Tale of Omega
Edit
Sparker will return in Potato's next game called The Tale of Omega. He is reserved for Natalie.
Ad blocker interference detected!
Wikia is a free-to-use site that makes money from advertising. We have a modified experience for viewers using ad blockers

Wikia is not accessible if you've made further modifications. Remove the custom ad blocker rule(s) and the page will load as expected.