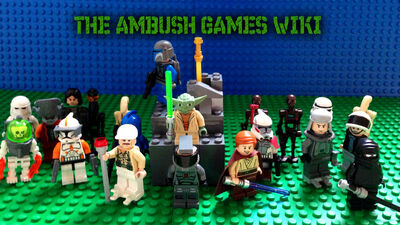 Welcome to The Ambush Games Wiki: A database for the game of roleplay, mystery, and LEGOs!!!!! Check out the site to read about the characters, learn about the victors and games of the past, and look to the future to hear directly from the creator and hosts what is in store for the future of The Ambush Games, and it's Spin offs and Series! All hosts contribute to the wiki, providing the most informative site possible.
Are you new to The Ambush Games? If so, please read our Newbie Guide to gain a basic understanding of how the game is played! Also, to make sure the game is fun and fair for everyone, please take note of the rules listed in The Official Ambush Games Rule Book. Thank You. :)
All Games
All Series
The Universe Master
TBA Series (by Star)
Latest activity
Ad blocker interference detected!
Wikia is a free-to-use site that makes money from advertising. We have a modified experience for viewers using ad blockers

Wikia is not accessible if you've made further modifications. Remove the custom ad blocker rule(s) and the page will load as expected.