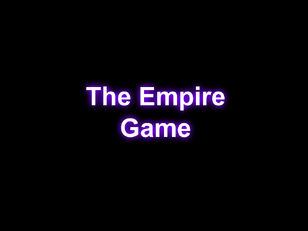 The Empire Game is an upcoming Ambush Game hosted by Ivar-Jedi. It takes place during the OT and will be Ivar's second OT Game. 
It is a direct sequel to Heroes of The Rebellion and another Rise Midquel and Prequel before "Jedi Knight" 
It is set a few days after "Heroes" and 2 years before Rise of The Jedi Knight. It is the first game that features the Empirials as playable characters and an appearence by Grand Moff Tarkin. 
Popular characters from the Rise Series are set to appear as well. 
The Game is Cancelled but might see the light of day in Series Form together with Heroes of The Rebellion.
Rebels in the Death Star! After finding and killing a Rebel Spy Grand Moff Tarkin starts an all out search to find all the intruders in the Empire's almighty battlestation.
Characters
Edit
Playable Characters
Edit
Darth Vader
Admiral Piett
Unplayable Characters
Edit
Grand Moff Tarkin (Host)
Siem Blackrim/Kyr'am Verd
Harlin Krekis
Fierce
The Fire Skeleton
Cyborg P03-N1X
Darren Ratta (Wiz-Man 2.0)
Zorrus Blake
Nalyal Dagget
The Emperor
The setting of this is the almighty Death Star. Now in it's full glory after Ravi's failure to secure the blue-prints for the battlestation over 17 years ago. 
After coming up wit the game Ivar immediately made the page for it since he felt he was on something original and took his chance. 
It is uncertain if it will be hostest at all.
It is the first game with the Empire as the Loyal affiliation.
Ivar has trouble coming up with Playable Characters
It is a direct sequel to "Heroes of the Rebellion" and continues to build on the story of the Death Star Plans. The ending of Heroes sets the stage for this game. 
It's ending will lead into "A New Hope" 
Ad blocker interference detected!
Wikia is a free-to-use site that makes money from advertising. We have a modified experience for viewers using ad blockers

Wikia is not accessible if you've made further modifications. Remove the custom ad blocker rule(s) and the page will load as expected.