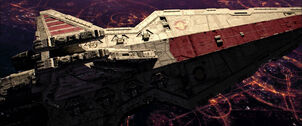 The Greenfinch was a Venator Class Jedi Cruiser during the Clone Wars and appeared during the conclusion of the Fifth Game "Rise of the Saboteurs" hosted by Ivar-Jedi.
Rise of The Saboteurs
Edit
Arrival At Morzux
Edit
The cruiser above the planet of Morzux carrying Jedi Master Obi-Wan Kenobi, Jedi Master Yoda and Commander Cody. Obi-wan and Cody went to pick up the survivors on the surface of the planet, including: Ravi-idej, The Fire Skeleton and Stimpy Bigshield. They returned to the Cruiser after pick up and some events.
Destruction
Edit
Whilst underway back to Coruscant "The Greenfinch" was Sabotaged by Stimpy! Revealing him to be the final Saboteur. The ship was evacuated and the crew escaped in the escape pods. The Cruiser is forever lost.
Ad blocker interference detected!
Wikia is a free-to-use site that makes money from advertising. We have a modified experience for viewers using ad blockers

Wikia is not accessible if you've made further modifications. Remove the custom ad blocker rule(s) and the page will load as expected.