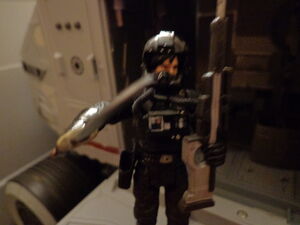 Zantin Semper is a featured playable character in The Rising Menace. Zantin is associated with Boba Fett and Que Elo.
Zantin Semper was born on Corellia, during the time when a civil war had bursted in his local city. He was trained to kill by his father. Alk. Zantin, later on, murdered his family to get what he wanted. He now wears his father's armor, and carries a rifle, and or pistol with a sword. He joined Boba and Que Elo before joining with Maul. But he is the most secretive, quietest amongst them. What might he be hiding?
Ad blocker interference detected!
Wikia is a free-to-use site that makes money from advertising. We have a modified experience for viewers using ad blockers

Wikia is not accessible if you've made further modifications. Remove the custom ad blocker rule(s) and the page will load as expected.